Nunzio ​The Boss (I do forget to smile sometimes so please forgive, I am so focus on making your visit enjoyable,
but I am working on it)
I was born in Boscoreale Napoli in April 1963, moved to England at a young age. I started to work when I was 11 years old in an bread / coffee shop in Cambridge (UK).
From then on I was in the horeca working in 5-Star hotels & top Italian restuarants in Italia / England / Switzerland / Germany / Holland. My last place of work was in Amsterdam at De L'Europe, with my late good friend professore Henk Blöte. After that I worked as an manager for different restaurants in the years after.
In 2012 I opened my successful restaurant till 2019, after selling my restaurant in Amsterdam Nunzio Due Napoletani..
I picked up many awards, eg from Tripadvisor 2016 - 2017 - 2018 - 2019, I hope to also take Nunzio Pulcinella to the next level, with fresh & modern Italian kitchen.
I want to be the best, no ones looks at second place because its the first of the runners-up
Haidi ​The Wife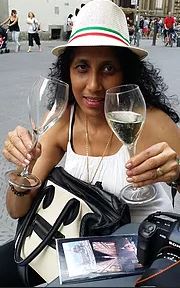 ​My wife Haidi is not from Italy (after being 30 years married to me (1990), she is now 50% Italian) but comes from the tropical land of Suriname (Paramaribo), born in December 1963. Just like most people from the south, she has a kind heart and warm personality.
In 1987, she moved to  Amsterdam, where she kidnapped me in 1989. In 1990 we got married until this very day, while she looks after me and our children.
Haidi will always willing to make sure that your time at the ristorante is  like being in your own home.